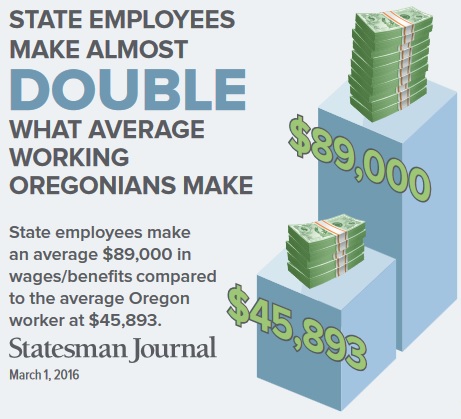 A report from the State Legislative Fiscal Office and the Statesman Journal (3/1/16) compare numbers between state employees and average Oregonians worker salaries including benefits.  The numbers show that State Employees ($89,000) make nearly double what average Oregonians make ($45,893).
$400 MILLION WAGE OVER- PAYMENT SURPLUS
One of the cost drivers is over-paying a state employee more than what the private marketplace would pay for the same job.   This was analyzed in Governor Kulongoski's Reset Report 2013.   The report found that if we paid state workers the same rate as the private sector on comparable jobs we would save $400 million in tax dollars.
OREGON HAS THE NATION'S MOST GENEROUS PENSION PROGRAM
The other 49 states require their state workers to make significant contributions into their own state pensions, Oregon does not. This added tax burden causes state wage costs to explode.   Source: U.S. Census Bureau, 2015 Data.