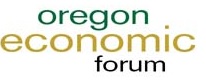 Oregon Regional Economic Indicators:
University of Oregon Regional Economic Indexes Release,
September numbers were mostly positive Oregon's regional economies. Underling trends continue to indicate solid growth. Highlights of this month's report include:
– For all regions, moving average measures (which smooth monthly volatility) remain above zero, indicating above average activity. Recall that these figures measure relative average growth; each region has its own underlying growth rate.
– Activity in the Portland metro area remains consistent with previous expansions. New home permits for the region are in a more normal range although still weighted more heavily toward multifamily housing.
– The Eugene-Springfield measure continues to power forward with fairly solid numbers across the board. Housing sales are well above average whereas new home permitting continues to lag.
– The Central Oregon measure surged in September on the back of unusually strong contributions from the education and health services and trade, transportation, and utilities sectors. New home construction continues to pick up speed in the region.
– The Rogue Valley measure suffered a setback this month, but the weakness was largely attributable to an unusual and likely temporary softness in the labor force component; underlying trends still look solid, although home construction remains soft in the region.
– The Salem measure pulled back somewhat due to a few weak employment components, but the general strong trend remains intact.