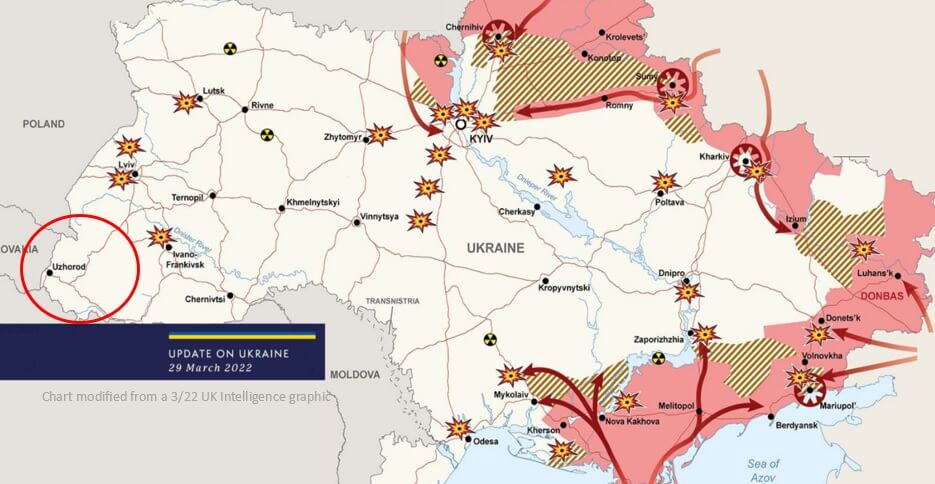 By Jason Williams
Taxpayers Association of Oregon Foundation,
Ukraine Series Background: Jason Williams first went to Ukraine in 2017 to do humanitarian work.  He returned again in May 2023 to provide food, clothing, and medicine to war victims.   This trip was not related to politics or foreign policy but a private charity trip.  His observations were shared with the Taxpayers Association of Oregon Foundation to give readers a rare insight into life, charity work and everyday realities inside a nation at war.
I joined a charity team of eight people that entered Ukraine from the farthest west entrance for safety. It is indicated on the map above.
Once across the border, I knew I was somewhere different when we pulled up to our hotel and saw a Red Cross/Red Crescent medic van displaying a "we-carry-no-weapons" decal.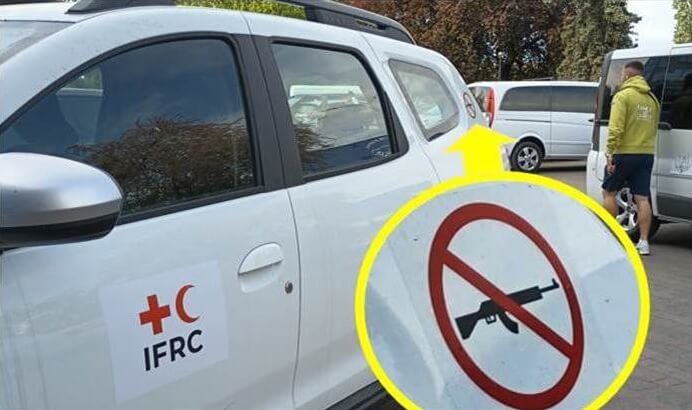 The Red Cross has to carry this decal because Russia has been attacking non-military vehicles, which has endangered humanitarian groups and charity workers.
Our Ukrainian host and interpreter shared with us a video of an attack upon a medical van.   One of the people who died in this attack was someone our host knew.
CNN explained in the video that this particular attack was launched within sight of the vehicle—meaning Russian forces purposefully targeted civilians.   This is something very important that people need to know.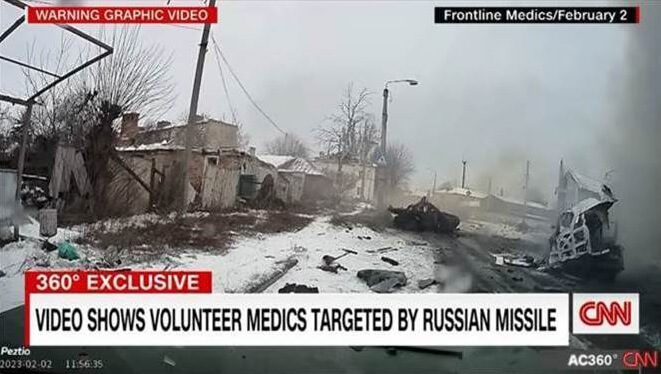 Not only does the Russian military attack civilian and medical vehicles, it also packs rockets with shrapnel consisting of sharp nails with flight wings on the end to give them flight after impact (photo below of one in my hand).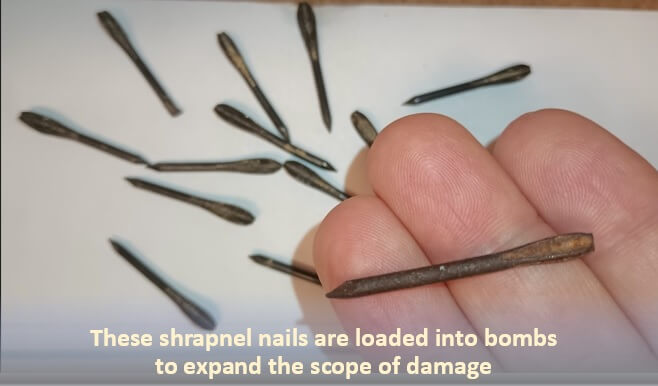 Russia drops these bombs indiscriminately upon cities (near hospitals, schools, residential areas) where upon impact these shrapnel nails spray entire areas, tearing into everyone—including women and children—in their path.
I wasn't long in Ukraine before I heard city alarm sirens go off from my hotel room.  Here is a recording of the war siren I heard.
Any time a major invasion occurs anywhere, city war sirens go off.  For locals, even though the attacks are far away, it is a reminder of the danger faced by family members closer to the frontlines.
As I was leaving Ukraine for home, our host shared with me this video of children in Kyiv running after they hear a bomb explode in the distance, a video unlikely to be seen in America.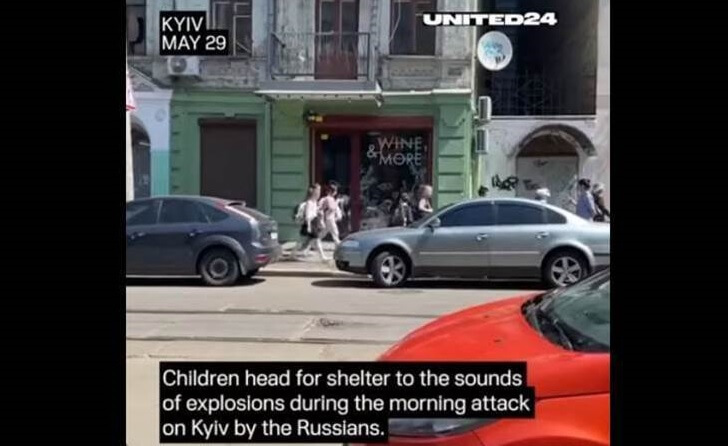 In a sign of how often rockets explode, one of our host leaders shared this photo of brand-new express bomb shelters created for everyday people to run into during a raid.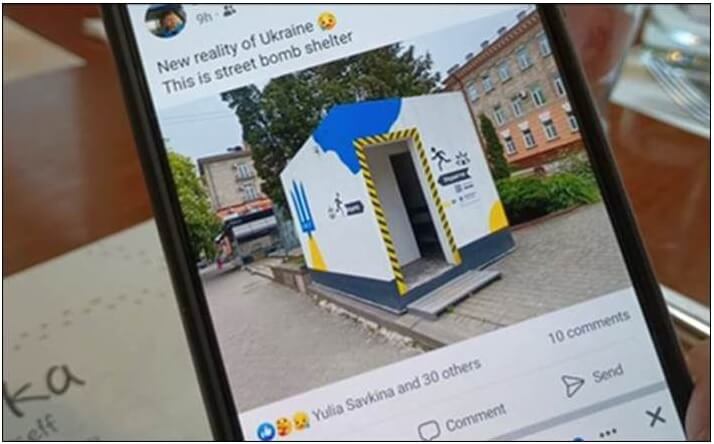 One woman we met at church used her translator app to write out a message: "It is so important you are here."
I asked her where she lived. Her phone translated back "Bakhmut"—the city at the heart of the fiercest fighting of the entire war.
On her phone, she showed me a photo of her apartment building, which was destroyed.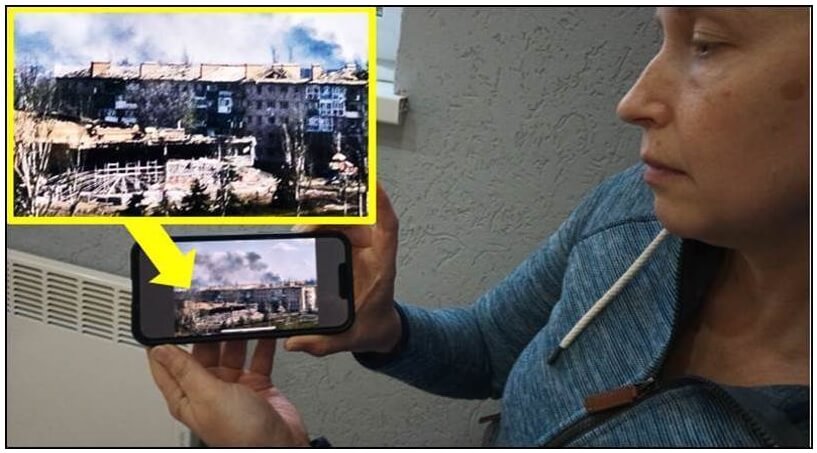 Then she showed me a video of a local church on fire with everything around it obliterated.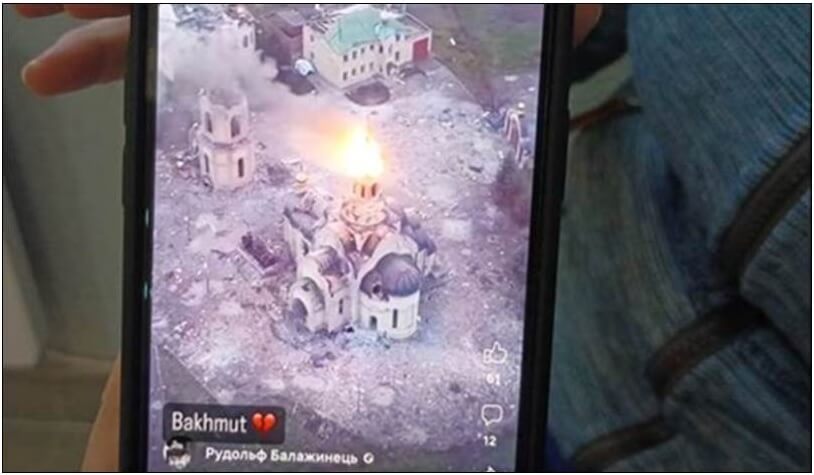 Needless to say, the city is destroyed, leaving nothing to go back to. She texted on her translator app the words, "Please tell others. People need to know."   This was the most common response I received from the Ukrainian people I met, a simple request to tell others what I saw.
The charity team I was a part of  brought huge duffel bags full of medicine, clothes, tourniquets, and a product called Bleed Stop.  Bleed Stop has become a popular, portable and affordable tool by charities to distribute to help protect people from shrapnel wounds, gun shots and explosions.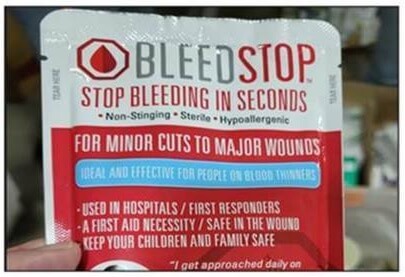 — Please follow this series for more installments.