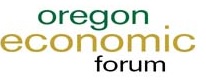 University of Oregon Regional Economic Indexes
Press Release provided by Tim Duy
Oregon Economic Forum
University of  Oregon
Oregon Regional Economic Indicators:
October measures of economic activity were generally solid across all regions in Oregon.  Highlights of the report include:
Moving average measures of activity – which smooth monthly volatility – indicate that the Portland Metro, Eugene-Springfield, Salem and Central Oregon regions are growing near or above their average paces of activity, while the Rogue Valley is just somewhat below normal growth.
Residential housing sales were strong throughout the state in October, although that activity still is not translating into widespread gains in new residential construction. Residential permits contributed positively to the Portland metro figures, nearly neutral in Central Oregon, and sharply negatively in the Rogue Valley and Salem areas.
Employment indicators were generally supportive with most sectors contributing positively. In addition, the unemployment rate and civilian labor force now yield a neutral to positive impact across all measures.
Also note that low levels of unemployment claims are adding significant contributions to the measures and are indicative of continued strong job growth. In general, conditions across the state continue to improve as the recovery broadens and deepens throughout more sectors of the economy.
Reminder:  The regional measures are prone to potentially large swings due to the volatility of some of the underlying data, particularly measures of employment.  The moving average measures smooth out much of that volatility.