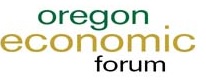 University of Oregon Regional Economic Indexes
Press Release provided By Tim Duy
Oregon Economic Forum
University of  Oregon
Oregon Regional Economic Indicators:
December was another strong month for most regional economies in Oregon.  Highlights of the report include:
Moving average measures of activity – which smooth monthly volatility – indicate that all nearly areas are growing near or above their average pace of activity, with only the Salem area somewhat below normal growth. Recall that "zero" for these measures indicates relative average growth; each region has its own underlying growth rate.
 Residential building activity continues to be a drag in most regions, with a particularly weak number for Salem. Still, the positive contributions in the Portland metro and Bend regions suggest that gains in new residential construction are slowing taking hold. Moreover, solid numbers in residential sales suggest that construction activity will accelerate, especially as population is expected to increase in Oregon.
Employment indicators remain generally supportive across all regions. Initial unemployment claims point to further broad-based employment gains in the months ahead. Waste collection added positively in regions with available data; improvements in economic activity coupled with increased population have typically been associated with rising waste generation.
In general, with the exception of residential construction, activity in most areas is increasingly similar to that seen in past economic expansions.
Reminder:  The regional measures are prone to potentially large swings due to the volatility of some of the underlying data, particularly measures of employment.  The moving average measures smooth out much of that volatility.