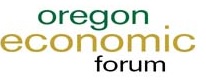 University of Oregon Regional Economic Indexes
Press Release provided By Tim Duy
Oregon Economic Forum
University of  Oregon
The economic expansion continued across Oregon in February.  Highlights of the report include:
Moving average measures of activity – which smooth monthly volatility – indicate that all areas are growing near or above their average pace of activity. Recall that "zero" for these measures indicates relative average growth; each region has its own underlying growth rate.
Salem's measure continues to hover near zero, held down by a low level of building permits and a declining labor force despite solid job growth in the region. Housing permits also remain a drag on the Eugene-Springfield measure. The Rogue Valley region continued its slow climb back to a pace of growth more consistent with past expansions; construction employment made a solid contribution in February.
The Central Oregon measure retreated, not unexpected after a spike in January. The underlying trend, however, remains solid with an above average pace of growth. Note that new housing permits made a nearly neutral contribution to the measure.
The Portland metro area posted strong numbers once again, maintaining an acceleration in activity that began the latter half of 2014.
Low unemployment is evident in that indicator's positive contributions for all areas, and the low level of initial unemployment claims suggests ongoing job growth is likely to continue throughout the state. Most metro areas are reporting solid housing markets, which should filter through to additional new construction as the year progresses.
Reminder:  The regional measures are prone to potentially large swings due to the volatility of some of the underlying data, particularly measures of employment.  The moving average measures smooth out much of that volatility.