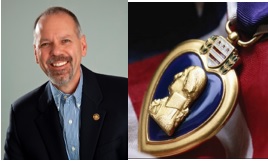 Rep. Huffman: Securing Oregon as a Purple Heart state
By Taxpayer Association of Oregon Foundation
House passes State Representative John Huffman's resolution designating Oregon a Purple Heart State
On June 3 the House unanimously passed a resolution designating Oregon as a Purple Heart State. The resolution, sponsored by Rep. John Huffman (R-District 59) and others, honors the service and sacrifice of those men and women in uniform who have been killed or wounded in our wars. 6,022 Oregon vets were killed in combat and approximately 15,050 vets were wounded during the five major wars from World War I to the present. This means that over 21,000 Oregonians have been eligible for the Purple Heart award.
If the Senate also passes the resolution, Oregon will become the nation's 15th Purple Heart State.
Oregon already has 9 Purple Heart Cities: Albany, Medford, Salem, Beaverton, Redmond, Bend, Prineville, La Pine, and Madras.
See also: