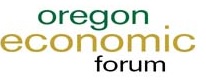 University of Oregon Regional Economic Indexes
Press Release provided By Tim Duy
Oregon Economic Forum
University of  Oregon
Oregon Regional Economic Indicators:
Measures of economic activity softened somewhat in March, but still indicate further gains in Oregon's metro areas.  Highlights of the report include:
Moving average measures of activity – which smooth monthly volatility – indicate that all areas are growing above their average pace of activity. Recall that "zero" for these measures indicates relative average growth; each region has its own underlying growth rate.
Salem's measure pulled solidly above zero on the back of a reduced drag from housing permits and generally stronger employment data. Housing permits and labor force numbers dealt a setback to the Rogue Valley, but the moving average measure indicates the underlying positive trend continues to hold.
Central Oregon's measure held strong as the region continues its impressive rebound from the recession. Generally solid numbers across a wide range of indicators support a solid underlying trend in the Portland metro region. The Eugene-Springfield region measure continues to track sideways at a level somewhat lower than that seen in past expansions.
Note that slow to declining growth in the civilian labor force was a drag across all regions, offsetting somewhat the positive impact of low unemployment rates. The current pattern of flat to negative labor force numbers is not consistent with the experience of past expansions in Oregon; it is reasonable to expect that stronger economic activity and in-migration will reverse this trend.
Reminder:  The regional measures are prone to potentially large swings due to the volatility of some of the underlying data, particularly measures of employment.  The moving average measures smooth out much of that volatility.