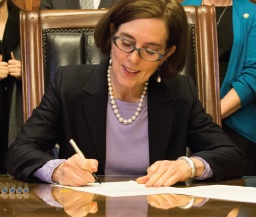 Governor Brown introduces Son of 97 Tax
By Taxpayer Association of Oregon Foundation,
– $300 million small business tax
– $530 million health care tax
– 100% Liquor tax increase
– 64% tobacco tax increase
Tax burden falls on small business as big business goes untouched: Twenty four days after Oregonians rejected the Measure 97 tax the debate has now shifted from taxing largest businesses to taxing Oregon's small businesses and people's health care.
Hiding the tax from the public: Local media outlets are not reporting on the tax increase because the Governor's press office publicized it as a "revenue increase" from "closing loopholes" — that just happens to cost nearly $300 million in higher small business taxes. This postcard may be the only tax warning you get!
Property and income taxes proposed: The Salem Statesman Journal reports that unnamed House and Senate lawmakers are looking at their own Son of Measure 97 tax stating it will include "bumping up personal income tax and property taxes". (Nov 13th, 2016)
Prepare by spending less this Christmas: The billion dollar tax will greatly increase your health care costs and explode small business taxes. You should begin saving this Christmas for the coming tax bill if it passes.