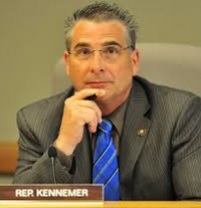 By Taxpayer Association of Oregon Foundation
Rep. Bill Kennemer has introduced a bill, HB 2612, to remove the special treatment mass transit and other governmental bodies has with its exemption from being sued in claims court. The problem arose from his constituent, Bennett Johnson, the owner of the Fearless Brewing Company. One of the company's beer trucks was swiped by the rear view mirror of a TriMet bus, causing $3,500 in damages. Because the law forbids public bodies like TriMet from being sued in small claims court, the brewing company was forced to hire a lawyer to represent them in a jury trial. In cases like this, attorney and legal fees can easily exceed $5000, significantly more than the original damages. Small businesses have little protection in light of the big protection for governmental entities.
HB 2612 prohibits a public body from requesting a jury trial when the damages in dispute are less than $5,000. It also requires mass transit districts like TriMet to settle disputes about fault using binding arbitration. People are given one year in which to file their claim against a public body, an increase in time now allowed under the Oregon Tort Claims Act. Opponents argue that opening up small claims court to government could open up the door for frivolous lawsuits. Kennemer feels that there must be balance and that simply shutting out small victims altogether to favor only the government interest is wrong.
"I think we need to find a way for equity for the small business guy when he is injured by the bigger guy. It's a matter of fairness," Kennemer said.
see also.