The protest against Oregon's Carbon Tax bill HB 2020 (also called climate bill, carbon cap and trade) went national this month and has led to its own collapsing. One of the loudest voices in the debate has been the community most endangered by the carbon tax — which is timber industry and the small towns that depend on them.
One of the most profound statements to come out of the debate has been the closing of Stimson lumber. This cherished lumber mill began in Oregon in 1880. Stimson lumber sent shock-waves throughout Oregon by declaring that they were closing their Oregon locations and moving to Idaho in order to survive as a company. They cited the Carbon Tax (HB 2020) and the new $2.6 billion business sales tax as the answer (read entire press release here).
Then came more voices from the timber community through a group called TimberUnity. A parade of logging trucks surrounded the capitol in protest. Those images went viral on the internet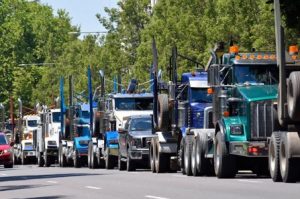 The more controversial and complicated the carbon tax became, the more calls came to let Oregon voters have an up-or-down vote on HB 2020. Not only was it decided to withhold a statewide public vote but an emergency clause was attached to the tax making it impossible for voters to the issue to the ballot using the referendum petition process.
This is the point when the Oregon State Republican Senators staged a walk-out which made national news including the front page of the Wall Street Journal. As media coverage intensified, it was the reoccurring symbol of Oregon's endangered mill workers and families on Oregon's Capitol steps that became the recurring images of the debate.
The debate over the HB 2020 carbon tax and of climate change in general has brought out the participation and voice of rural Oregon and timber communities who have often been ignored in the past — yet they are the ones impacted more by new carbon taxes.