Oregon Task Force on Universal Health Care works on plans for universal health care which includes up to 15% income tax.
In 2019, Oregon lawmakers voted to create the Oregon Task Force on Universal Health Care (SB 770) to draft up a plan for free health care for all Oregonians. The State government would replace all private insurers and abolish all company policies. Universal health care promises free health care, at no cost, to anyone — including non-citizens, homeless, and people moving into the state. To pay for it, the task force has proposed a new 15% Oregon income tax.
Undeterred by the State of Oregon's chronic inability to administer its core programs – like getting Unemployment Insurance checks to people thrown out of work by the state's COVID-19 dictates  – the Oregon Legislature's Universal Health Care Task Force blithely is running toward delivering a proposal to take all Oregonians' health insurance away and replace it with a state-administered single-payor program. The Task Force's formal report, required by 2019's SB770, is due in September.
This would be a massive undertaking that would intentionally upend the entire health care system in the state. The state optimistically estimates that this monster program would cost $57 billion in 2026 alone, and it would require massive taxes of as much as 15.5% of income – on top of Oregon's already high income tax of up to 10% of income — and by "redirecting" federal money that currently supports Medicaid and Medicare in Oregon. Of course, the Task Force doesn't call this taxation. They prefer to call the taxes "contributions" – as if there would be a choice! The slide below, presented to the Legislature (slide 25), shows they are counting on soaking the "rich."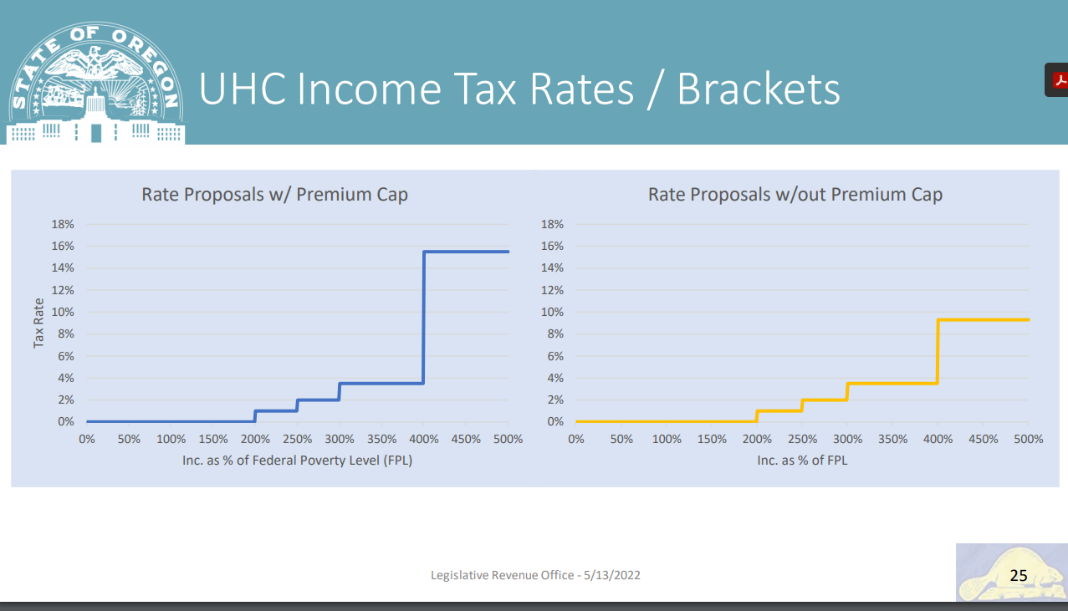 The top rate would kick in at 400% of the Federal Poverty Level – in 2022, that's $54,360 for an individual. But the most well-off taxpayers, many of whom can work somewhere besides Oregon, aren't just going to stand around to be taxed heavily and lose their nice health benefits. They'll leave.
More than 95% of Oregonians have some form of health insurance – private, Medicare, or Medicaid. Surely there is a simpler way to help the remaining 5%. Does anyone in Salem remember Cover Oregon, whose job was only to build a website for individuals to buy private health insurance?! That $250 million fiasco became fodder for television comedians. Does anyone really believe that the same state government that couldn't build a decent website can run all of health care?
But the outlines of the "Universal Health Care Task Force" proposal are no joke. It would:
Outlaw most private health insurance.
Force doctors and other health care providers to accept the state plan's low payments and prohibit them from charging any other fees.
End Medicare and Medicaid in Oregon.
So far, the Task Force has spent $1.6 million on consultants to dress up its pre-determined plan. A lot of legislators are having "town hall" meetings this summer as they campaign for reelection. Tell them to stop work on this terrible idea and fix what they already can't operate before they even think about new, expensive, freedom-robbing programs.
The national non-profit, The Lund Report, has criticized the task force as it has "worked quietly" and "has drawn scant attention" for such an economic overhaul project and enormous tax increase (6/9/22). Very few Oregonians have any idea that there have been public meetings during the summer of 2022 (when most people are on vacation) to discuss abolishing private health care and replacing it with a possible new 15% income tax. Bend's newspaper, The Bulletin, criticized the task force for hiding the tax.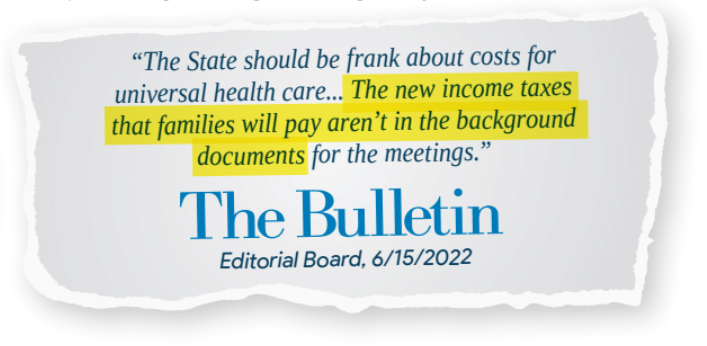 You can email public comments (be succinct, respectful always) and your questions directly to the Task Force on Universal Health care at this email [email protected]
All Task Force meetings are recorded and materials posted for each meeting on the Task Force's legislative website.
You can also see updates here on the Task Force website.